Why Western Kentucky University used predictive analytics to shape its first-year class
The enrollment cliff.
These are three dreaded words for any college or university these days, as a result of many factors, among them the smaller number of possible college students coming out of Gen Z compared to their Millennial predecessors.
Expected to first significantly confront higher education institutions in 2025, several universities are using emergent technologies when it comes to not only assembling its freshmen/first-year classes of undergraduate students, but also determining who will stay around on campus — and ultimately graduate.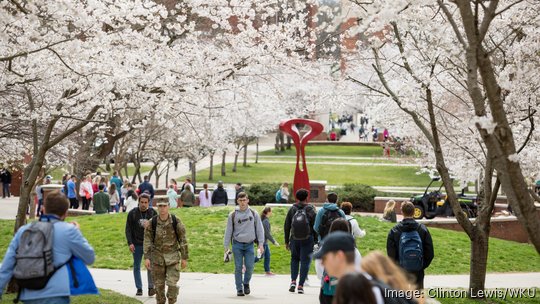 At the local level, one of those schools is Western Kentucky University, which has used Candidate 360 — a predictive analytics artificial intelligence (AI) tool developed by Deloitte — to recruit and shape the 2,755 students who make up the class of 2026 of the Bowling Green institution.
And, so far, the results have been good with WKU having the highest retention rate from the fall to the spring semester for first-year students since 2017-18 at 91.1%.
How it works
Candidate 360 is built on a data set that was initially built using Deloitte's People Prism platform. The data set dates back to about 15 years, according to Benjamin Lynch, the product manager for Candidate 360 at Deloitte.
At the beginning, Candidate 360's main use was in the insurance industry to help determine what makes a successful insurance agent, while working with large insurance companies as clients.
Recently, though, higher education has gotten more involved in Candidate 360 and other types of predictive analytics tools as a way to create what Lynch called "smart lead generation" either by providing new leads, creating a score for the likelihood of someone to apply, and giving the school "strategic input" and the ability to funnel down prospective students through the most granular of qualifiers "to help schools really compose a class that's diverse beyond data that might be on the application," Lynch said.
"Higher education follows business. Businesses apply data analytics to extreme levels right now to improve their efficiencies and their effectiveness. And higher education is not too — well, we're behind, but we're not too far behind," said Ethan Logan, the vice president for enrollment and student experience at WKU.
Lynch said there are somewhere in the vicinity of 230 million names in the database total — or approximately 130 million households, each designated by a blue dot when looking at the initial geographic interface.
When a school signs up for the service, it submits a historical list of names that have been in its data. Candidate 360 will then generate a lengthy list of possible students based on approximately 2,000 data points.
In WKU's situation, Logan said there were initially around 200,000 names, which was funneled down around 15,000 to 20,000 possible applicants who had either clicked on something, attended an event or did some other task that denoted they wanted to correspond further. From that list, there were approximately 10,000 applicants, about 8,000 of whom were admitted.
Somewhere between 2,300 and 2,340 data points were used specifically during WKU's progression of the Class of 2026.
"A predictive model gives us the opportunity to say, 'OK, I've got limited resources. I cannot talk to each one of these 20,000 people in it every day, every week. I've got to determine who has a higher likelihood of receptivity and approaching matriculation. I'm not going to ignore anybody's expressed interest, but I'm going to spend more time on people who have a higher likelihood of coming through," said Logan, who added that the enrollment cliff has been something that has been talked about in the realm of higher education for about five years.
Jordan Harris, a client relationship executive at Deloitte based in Louisville, said in WKU's case, the use of Candidate 360 was part of a "cross-coordination" between the university, the Bowling Green Area Chamber of Commerce, WKU's Innovation Campus and local businesses.
"'How do we make sure that those people can stay? How do we make sure that they're leaving WKU with the skill sets that they need? How do we make sure that we're getting candidates who are going to be able to complete a degree?'" Harris said of the questions posed. "And so the university was willing to be innovative in the way that they were going to recruit students."
'Emergent to the market'
Deloitte was one of four companies that WKU had selected before choosing to go with Deloitte about a year-and-a-half ago, according to Logan, after the university started to look at predictive modeling during the 2020-21 academic year.
"It is not new to the market. It is emergent to the market for higher education vendors," Logan said. "There's different data mining ways to do this, but essentially, you're doing the same thing. You're trying to assess markers and variables that you can quantify and project those forward, so you can talk about how many students you think you're going to show up or not."
Logan arrived at WKU in May 2020 after spending more than 22 years at Texas Tech University. When he was first exposed to the world of enrollment management as the executive director of undergraduate admissions in 2008, a rudimentary version of the technology existed as a way to call up cold leads through information gathered by the American College (ACT) and The College Board.
Matt Bain — a Chicago-based senior manager at Deloitte who specializes working in the higher education sector — has worked with more than 50 colleges and institutions during his career and has been in the higher education consulting space for approximately 15 years. He has been WKU's main contact since Day One, having been on the team that answered the university's initial request for proposal, and still has monthly touchpoint meetings with Logan and his team.
Bain could not give an exact numerical increase in the overall uptick of interest from colleges and universities for Deloitte's services, but said that there has been a gradual increase over the years.
"With data and analytics being more prevalent, [universities] are using that to their full advantage to augment what they're currently doing from a process perspective," Bain said. "To combat some of the competitiveness [and] to create more of a student-centric experience, this is in line with what is top of mind to a lot of industry trends."